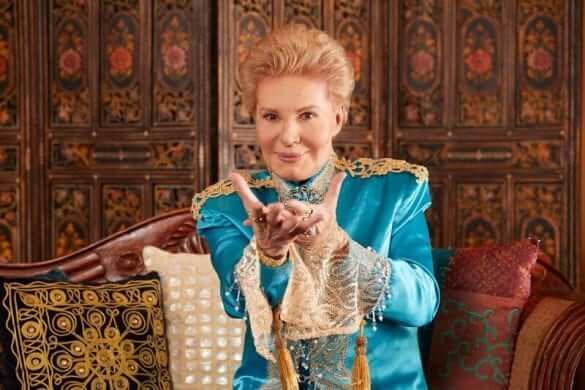 The Extraordinary Walter Mercado!
Walter Mercado, a name that a lot of you may have heard of, a psychic and legend in the field of Astrology and spirituality. He strides in with his magnificent cape and flashy accessories. He turns heads and people want to know.. who is this man?!
You might believe that the reason his clothes were sequined, colorful, trimmed with lace and extravagantly embellished was because his larger-than-life personality couldn't be contained in just anything. But the real reason that he was dressed up was you. In an interview with Jorge Ramos, Walter explained, "It's so I don't disrespect the public. The public wants Walter [mono], bonito and at least, with his really nice clothes.". Nonetheless Walter was proud of his nice clothes and his bold fashion statement, his pieces were Unique and magical! Read more about finding your style in my previous blog – "It's time to fit your style".
Walter Mercado, who was born in Puerto Rico, developed a personal style that can only be described as exuberantly opulent. Many have tried to copy his look and come up short. On anyone else, his mix of ruffles, embroidery and oversized baubles would look tacky, but on Walter, they looked elegant. As we look back on every aspect of what made him so interesting, we can't forget his clothing. Below, check out nine outfits that were, like him, truly out of this world.
His dazzling Capes are what have made him so iconic. His brightly colored suits and embroidered sleeves are just as striking as his personality. He draws people in with his complete presence. He is just so inspiring for so many people afraid to express themselves or share their uniqueness with the world. I can't think of anyone else quite like him.
The recent Netflix documentary on him – 'the Legend of Walter Mercado' displays his beautiful clothing pieces designed by several famous designers and even himself. The cape became his signature look and, over time, it became increasingly detailed — bejeweled, gemmed, sequined, and eventually designed by Versace and Isaac Mizrahi. He settled on a hairstyle that was soft, with feathered waves that framed his face which was also very iconic to him.
The exhibit opening Friday, August 2nd is named "Mucho, Mucho Amor" in honor of his signature sign-off. It features mementos from the past 50 years of his career as a television astrologer and pop culture icon.
No doubt these bright and colorful capes will be a crowd favorite at the exhibit, including the famous bedazzled Puerto Rican flag costume he once wore. But for Mercado, his favorite thing at the exhibit is a simple pair of castanets. This Man was truly Magnificent not only for his ability to inspire millions and show them love and hope but also bring Authenticity into fashion. No matter how tacky or Glitzy your clothes may seem, anyone can pull it off with a fabulous personality!
Mucho Mucho Mucho Amor!