Sure! A size 0 was all the rage but it doesn't have to be in 2020. We're all loving the body positivity vibes but we still love our 90's looks more than ever. A little bit of 'Clueless' and little bit of ''Jawbreakers'. It's important to remember the 90's was not all just satin and glam, it had its grunge moments.
Leather was big!
The 90's was all about looking fashionable and the most bad bitch version of yourself. A lot of leather trends stemmed from the punk subculture of fashion greatly popularized during the 90's with movies like Matrix and music bands like Greenday. Punk style gained popularity in the mid-late '90s, especially among skaters.This 90s look consisted mostly of black, red tartan, and darker colored t-shirts, hoodies, leather jackets, boots, and skate shoes. If you need inspiration for a punk look, look to bands like Green Day, Blink-182.
The Evangelista vs The MTV kids
'Evangelista joined Naomi Campbell, Cindy Crawford and Christy Turlington for the finale of Versace's Fall 1991 collection. They walked arm-in-arm down the runway, lip-syncing the lyrics to George Michael's hit "Freedom! '90" — the music video for which they had all starred in.
It was a very early-90s moment.' – CNN Style.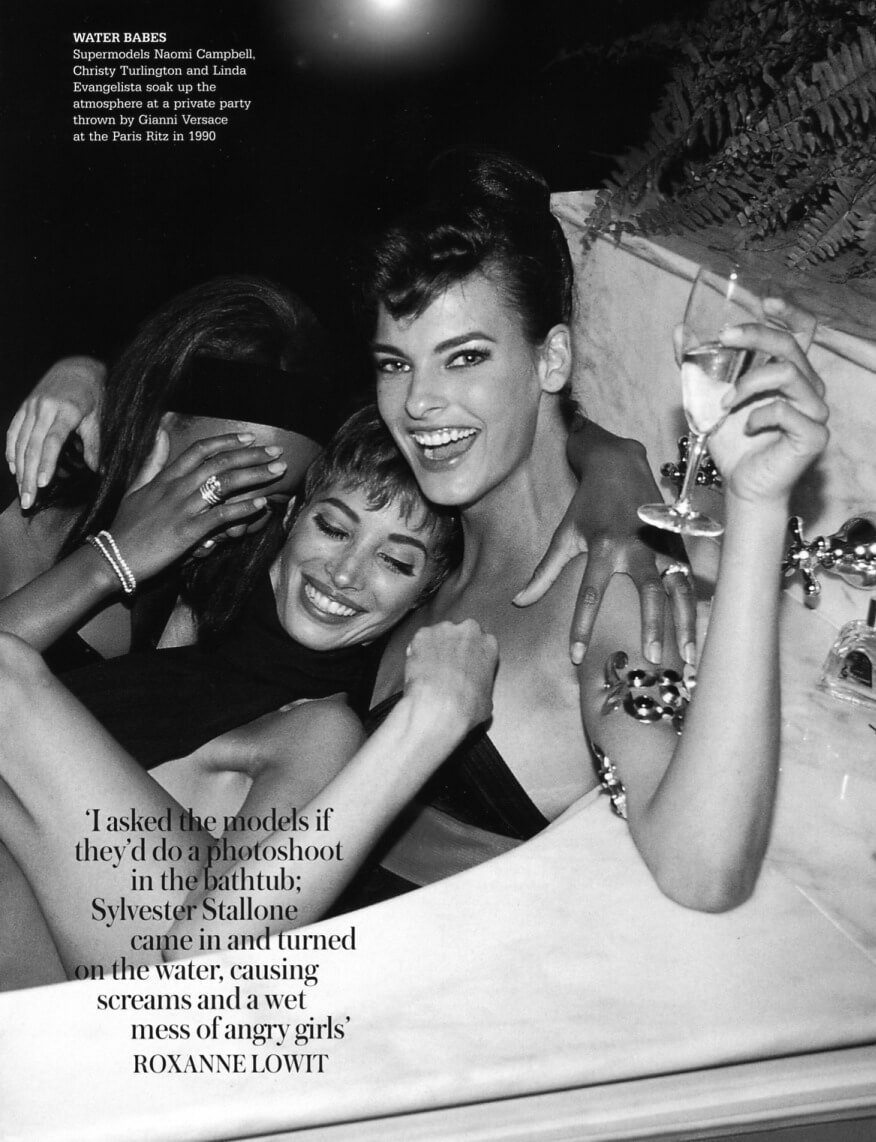 The first 1990 cover of Vogue appeared the 'uber' models of Naomi Campbell, Linda Evangelista, Tatjana Patitz, Christy Turlington, and Cindy Crawford smiling in minimal makeup and faded jeans. Gone were the eighties sharp shoulders and escalated hair and in came a more relaxed casual style. There was a revival of sixties and seventies styles with the flared trouser reappearing – eventually becoming known as the bootleg trouser and platform shoes having resurgence. Stretch leggings replaced the tailored sharp trousers with Pucci prints being a must have trend. The long skirt took over globally creating more elegant silhouettes in the 90's.
Grunge was taking the industry by storm in the 90's. In 1993, then 29-year-old Marc Jacobs put out these totally unstructured pieces on the catwalk in a Perry Ellis show that featured granny dresses, Doc Martens and plaid shirts. These were so far from the mainstream fashion-it made a big statement at the time.
Although he was widely criticized, ultimately, fired for it. The collection turned out to be the decade's most important turning points for fashion, not to mention his career.
Chanel's Spring 1994 range also looked to the street, dressing models in skates and baggy boy-shorts accessorized with rapper's chains, while Calvin Klein presented lingerie-layered pieces that were, as he told Vogue, about "the personal, about staying in and being alone, and not flaunting what you have on your back." Tom Ford reinvented the Italian brand, flaunting velvet trousers and sexy satin shirts endorsed by Madonna at the 1995 MTV Video Music Awards.
In the late 1990s, Alexander McQueen bet on explicit provocation with a series of experimental shows, of which Spring 1997's La Poupée (The Doll) was perhaps the one of the wildest, featuring models in various metal restraints.
Remember when Cher's plaid yellow blazer turned the humble high school hallway into a catwalk? Well Clueless is still a cult classic today, mostly due to it's popular fashion choices.
Meanwhile, for a generation of teens raised on MTV and the fictional lives of fellow adolescents — Beverly Hills, 90210 and Bel-Air, to name just a couple — fashion came to be defined as a mix of preppy garments (duster coats, plaid miniskirts, knee-high boots) and slouchy cardigans, ripped jeans and snapback hats. 90210's Brandon Walshe had that kind of preppy james dean look, rolled up shirts and ankle length boots.
Keds and Skechers were cool though, if you were into rap, Timberlands had to be your footwear of choice. Reebok Pumps were sneakerheads' Holy Grail and combat boots the hallmark of Kurt Cobain-enamored kids.
Sarah Jessica Parker, both on and off HBO's "Sex and the City," Alicia Silverstone, as popular rich girl Cher Horowitz in "Clueless," Naomi Campbell and Tyra Banks also helped set our style standards. They were all about going big or going home!. They never failed to look absolutely glamorous and never forgot their designer handbags. Carrie bradshaw however did have her moments of sporting the broody, grunge look from time to time, which looked absolutely great too.
The men, meanwhile, were definitely more on the broody side — see Jared Leto, Brad Pitt, Johnny Depp — and their disheveled looks embodied casual dressing, with a penchant for leather jackets, white tees and minimal tailoring. Oh! And remember the guys from friends?, well there was something about the casual look that was really appealing at the time because it was an alternative to the Glam look many sported. At the time it was the alternative fashion, and it made great hits on Tv shows.
Throughout the decade, anyone who was anyone made a case for easy elegance by sporting double-breasted blazers and waistcoats, or coordinated head-to-toe looks, which made even more of an impression when touted by couples (Gwyneth and Brad) and girl groups (TLC and Destiny's Child). Throughout the decade, anyone who was anyone made a case for easy elegance by sporting double-breasted blazers and waistcoats, or coordinated head-to-toe looks, which made even more of an impression when touted by couples (Gwyneth and Brad) and girl groups (TLC and Destiny's Child).
Brands like Prada and designers like Vivian Westwood were all about keeping up with the trends.The '90s of Miuccia Prada ranged from a minimal attitude, to a timeless femininity as in the Spring Summer collection of '92, where she brought the French Riviera of the 50s and 60s to the catwalk. Both Disruptive and innovative, the Lady of fashion loved to play with materials and their symbolic meanings: in the Spring / Summer '95 collection she introduces nylon, a distinctive element of Prada to this day. In 1996 his collection was inspired by the "banality", a concept already consolidated in literature, cinema and art, but not yet in fashion, so much so that the collection was defined by critics "ugly chic".